It wasn't good to be the first in this Vendée Globe. But I managed to pull myself together and regain some ground on Charlie (Dalin) enough to make up the time, it was an amazing regatta.

I always believed I could do it, but in what position? I thought I would win at Cape Horn, but then I thought that if I finished 25th, then that would be good enough. We prepared a lot for this Vendée Globe, I knew I had a reliable boat and I was able to pull it off.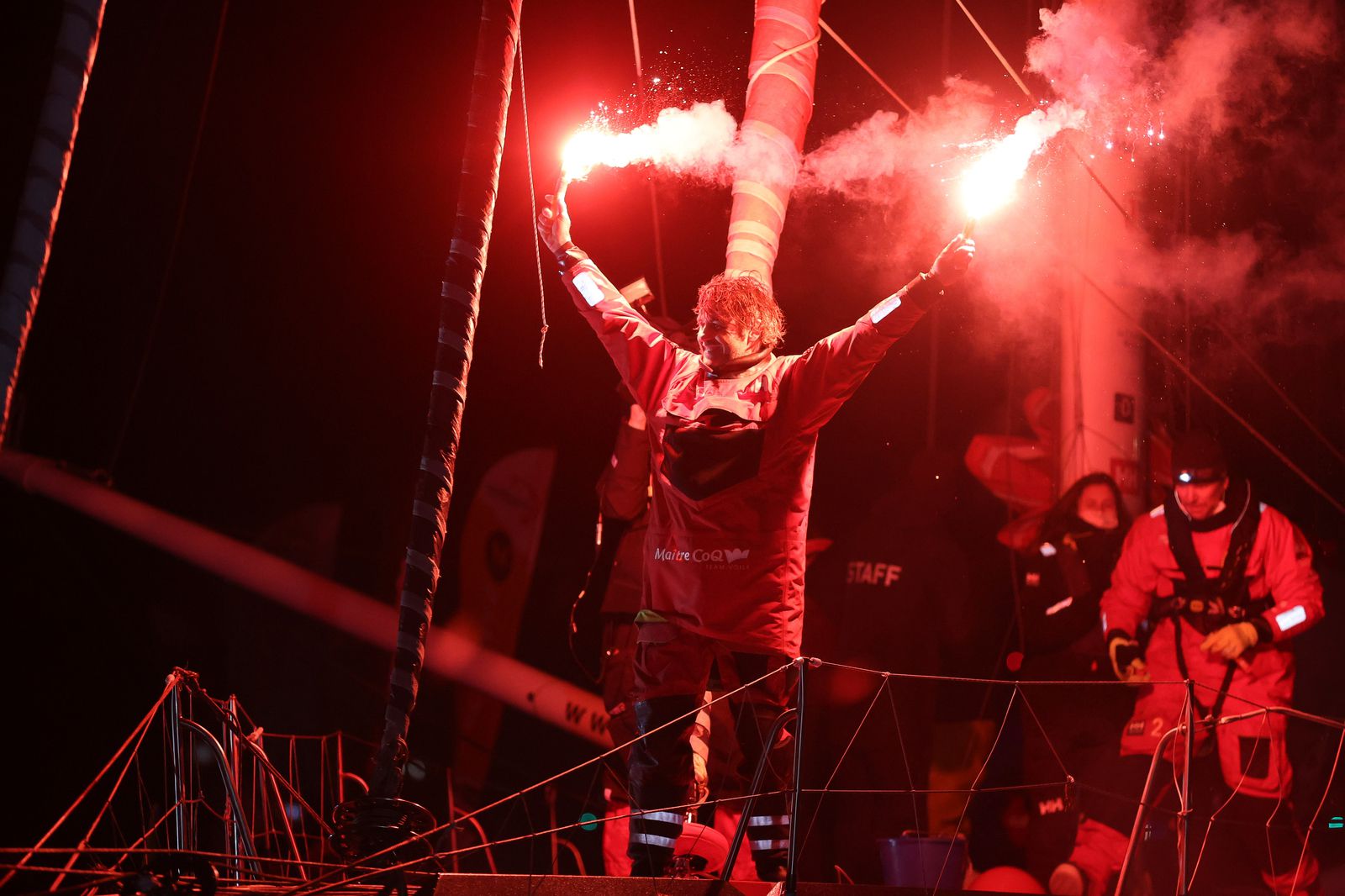 Yannick Bestaven, the 48 year old French skipper of Maître Coq IV, is the overall winner of the ninth edition of the Vendée Globe. As two skippers, he carried a time compensation of 10 hours and 15 minutes, awarded by an international jury to rescue Kevin Escoffier.
The ninth edition of the race saw a record entry of 33 skippers and has been marked by complicated weather patterns for both the descent down and the ascent back up the South Atlantic, including regrouping of the leading pack in persistent period of light winds early in the Pacific, and again off Rio de Janeiro, Brazil.
Difficult, short, crossed sea conditions in the Indian Ocean meant the newest, most powerful latest generation foilers could not sail to their full speed potential. And two of them, Thomas Ruyant's LinkedOut and Charlie Dalin's Apivia both suffered different damage to their foil systems which compromised their speed potential on starboard tack.
The most dramatic moments of the race came on the 22nd day of racing, November 30th when PRB, the IMOCA of third placed Kevin Escoffier broke up suddenly 640 miles SW of Cape Town. Escoffier was forced to abandon into his liferaft in minutes. Four skippers were requested to reroute help locate and rescue him. Although 61 year old veteran Jean Le Cam was first on the scene and got close to Escoffier it was 11 ½ hours later when Le Cam was finally able to rescue the stricken skipper from his liferaft.
The international jury announced their time compensations on December 16th at six hours for Germany's Boris Herrmann, 10hrs and 15 mins for Bestaven and 16hrs and 15 mins for Le Cam.
Podium of the ninth Vendée Globe:
1 - Maître Coq IV (Yannick Bestaven), finished 28/01/2021 03:19:46 UTC.
Elapsed time 80d 13h 59min 46s.
Time compensation : -10h 15min 00s,
Offical corrected time : 80dj 03h 44min 46s.
Average speed on the theoretical course: 24 365.74 nm / 12.60 kts.
Miles sailed 28 583.80 nm at an average of 14.78 nds
2 – APIVIA (Charlie Dalin) finished 27/01/2021 19:35:47 UTC.
Elapsed time 80d 06h 15min 47s
No time compensation.
Time difference to first 02h 31min 01s
Average speed on the theoretical course: 24 365.74 nm / 12.65 nds
Miles sailed 29 135.01 nm at an average of 15.13 nds
3 - Bureau Vallée 2 (Louis Burton) finished 27/01/2021 23:45:12 UTC
Elapsed time 80d10h 25min 12s,
No compensation.
Time difference to first 06h 40min 26s,
Time difference to APIVIA 04h 09min 25s
Average speed on the theoretical course: 24 365.74 nm / 12.62 nds
Miles sailed 28 649.99 nms at an average of 14.84 nds
Bestaven was one of skippers who secured Escoffier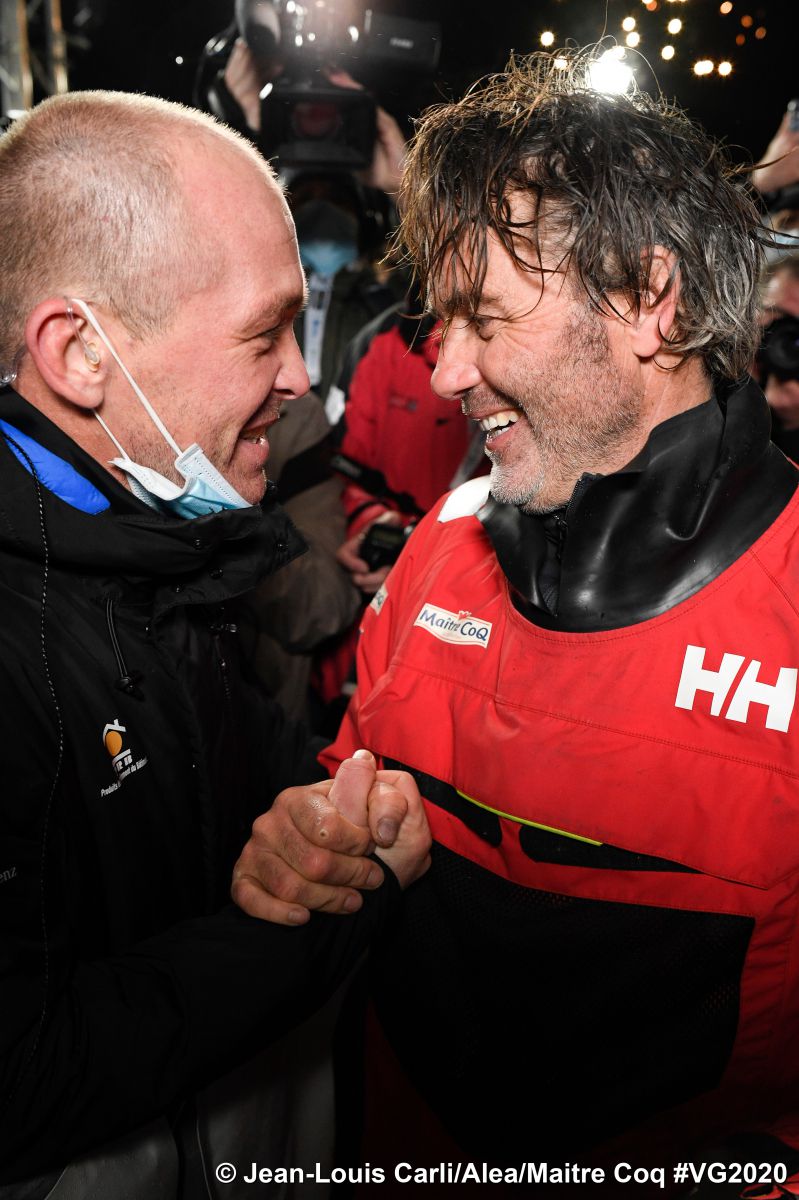 Our team editorial was so excited to follow on the screen TV, computers and Iphone yesterday very late. As many media were invited at Sable d'Olonnes, but conditions were not met for us. Our heart beat stongly to know who could be the winner. All along the race, the leader was: Thomson, Bestaven, Dalin, Ruyant... We were lost by extremely fast race. Everyday we were staring at press release and materials from skippers Vendée Globe. For most of us we are not a seamen/seawoman but we became. Next sailing boat race shall target to cover.
To be informed of the latest articles, subscribe: