Vinod kashyap, reporter made a video report on lions in Gir national park in India. Lions come out from their "home" in the night. The Indian report shoot it with an employee of the park.
Gir National Park and Wildlife Sanctuary is also callled Sasan Gir, a forest and wildlife sanctuary near Talala Gir in Gujarat, India. Established in 1965 as a national park, it covers 1,412 km2 for the protection of animals and forest eco
The Asian Lions live in peace in this area. In 2015, the number reached 411 in 2010 to 523 male and female.
I have travelled extensively at day time and the night also through #ManhindraTharJeep​. This video shoot at #DhariTalluka​ district Amreli(#Gujarat​) you can see the Thar crossed the Shetrunji river very easily. #Girlions​ spotted finally at night. #GirNationalPark​ looks very different through Thar jeep.
Gir National park | Mahindra Thar 2020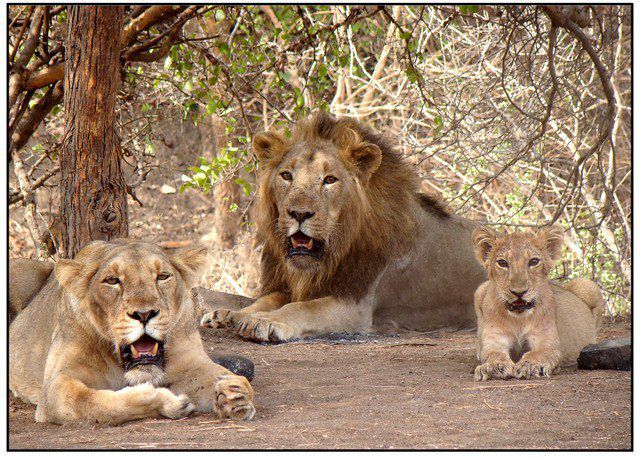 photo courtesy of wikipedia
Follow Vinod in his adventure in the national park
The story is how the #lions​ and their cubs behave in the silence of the night in the middle of night at the #GreaterGir​ of #Gujarat​.
The forest is awake at night. The cacophony of the night adds to its thrill. #Girnationalpark​ also known as #SasanGirpark​ in #saurashtra​ region, #Gujarat​. Always a place of interest for #tourists​, #photographers​, #storymakers​ who loves #wildlife​ because of presence of Asiatic Lions. It has been noticed that from last 20 years Asiatic lions are #inhabiting​ from #Girforest​ to nearby #villages​ . It seems to be very adventurous but is it possible???? #Canhumansandgirlionsbefriends​? #humansandgirasiaticlionsarerelatives​? My YouTube channel link YouTube link http://www.youtube.com/c/vinodkashyap​ Gir Asiatic lion story link https://www.youtube.com/embed/bKqcn8-...​ Suggested Links........ www.girnationalpark.in
Gir National Park is closed from 16 June to 15 October every year. The best time to visit it is between December and March. Although it is very hot in April and May, these are the best months for wildlife viewing and photography.
To be informed of the latest articles, subscribe: