At Larnaca headquarter of Cyprus Airways company, the decision made to launch the Summer schedule 2021, starting its operations this month. All travellers can book their seat from Sunday 9th May and applicable to flights throughout the schedule irrespective of departure date. The national airline will be unveiling a new look schedule that includes new destinations as well as the new Mediterranean interconnectivity.

Cyprus Airways was granted during the last Cyprus Tourism Awards showed its efforts to enrich local tourism. Despite COVID-19 impacting for almost every national airline, the National company has continued to fly uninterrupted and has provided essential repatriation services as well as scheduled and charter flights. Some new routes will connect Cyprus to 14 destinations: Malta, Thessaloniki, Heraklion, Skiathos, Preveza, Rome, Verona, Prague, Moscow, Saint Petersburg, Kiev, Odesa, Tel Aviv and Beirut.
Malta is at the national carrier, enhancing Mediterranean interconnectivity. This summer's schedule is expected to deliver over 100,000 visitors this year to support the tourism recovery in Cyprus and support jobs at Larnaca Airport where the national airline brand has a base.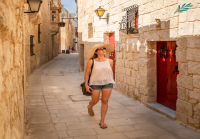 Cyprus Airways is a pioneer in the Cypriot travel industry as the national carrier brand and it has its operating base at Larnaca International Airport. It is appreciative of the international effort to make travel easier, coordinated, and safe with initiatives like the digital green certificate that would allow EU citizens who have been vaccinated, tested negative or recovered from Covid-19 to travel more freely within the EU.
We understand our importance to the local economy and are proud of the fact that while most countries have left their planes on the ground we continued to fly and serve the nation. The upcoming announcement on our Summer schedule and expanded destinations will give comfort to the many stakeholders in the Cyprus hospitality industry and we look forward to playing our role in supporting tourism moving forward as we have always done.
To be informed of the latest articles, subscribe: