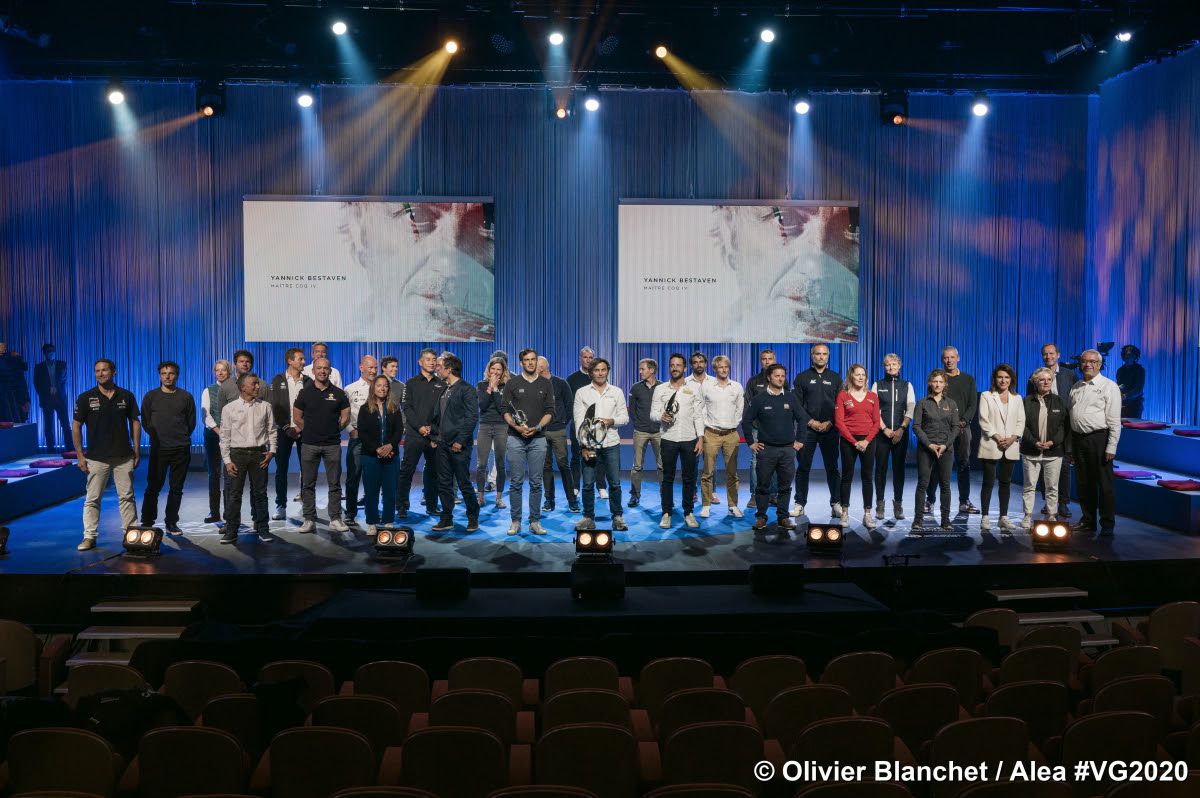 That Saturday, 33 skippers who participated to the Vendee Globe race were excited to talk about their adventure at Vendee TV. Yannick Bestaven (Maître-CoQ) received his top award as the overall winner. There were two further key announcements, the 10th edition will leave from Les Sables d'Olonne on November 10, 2024 and the sailors should finally have a chance to meet with race fans later this year, at a popular festival to be organised on Saturday September 25, 2021!
The race could be done even if the difficult situation of pandemic. The health situation in France means crowds were strictly limited and it was a relatively muted affair compared to previous years.Smiles were broad and the laughter audible as the skippers met up for the first time since the start last year.
31 of the 33 skippers entered in the 9th Vendée Globe were there. Only Boris Herrmann (Seaexplorer - Yacht Club de Monaco) and Alex Thomson (HUGO BOSS) could not come. Pip Hare (Medallia, already on her way to the next edition) and Ari Huusela (Stark) both made it to Les Sables d'Olonne.
The ceremony was close with audience, the atmosphere was so different from other winners in the past :
Armel Le Cléac'h (2016- 2017)

François Gabart (2012-2013),

Michel Desjoyeaux (2000-2001,

2008-2009), V

Vincent Riou (2004-2005),

Christophe Auguin (1996-1997),

Alain Gautier (1992- 1993)

Titouan Lamazou (1989-1990).
The programme featured an hour-long TV show, broadcast on vendeeglobe.org and social media. Skippers recounted their memories, the highlights including Jérémie Beyou talking of his changed perspective on racing round the world, Clément Giraud talking of his voyage of self discovery, but also the rescue of Kevin Escoffier relived and of course that epic, close battle to the finish line.
We are staying the course: there will indeed be a Vendée Globe in 2024! And if all goes well, the start will be given on Sunday, November 10, 2024 at 1:02 p.m. We are extremely frustrated to have organized this Vendée Globe with a lot of it on camera only and not in person but we are meeting on Saturday September 25 to celebrate, if conditions allow, with all the public, our heroes of the Vendée Globe 2020-2021.

Giancarlo Pedote (Prysmian Group): "It's a strong emotion! The first thing I did this morning when I got here was come and see the way out the channel. All the memories flood back. We had the chance to experience something intense in emotions, exceptional. I had lots of meetings, and that's also the richness of an event like that. What unites us: the same emotions, the same difficultie".
Didac Costa, Spanish skipper (One Planet One Ocean):
"As it was my second edition, I was able to enjoy my surroundings more. The circumstances of life mean that I took advantage of my passion for the Vendée Globe before very quickly returning to my professional life (Didac is a firefighter in Barcelona), that's how it is, life is like that ".
Winning has changed a lot of things, finishing the Vendée Globe. is already a victory. The second win was to have a partner, who trusted me and my team. And, over the course of the race, the ambitions came. I never said to myself that I had secured the victory: there were so many twists! It wasn't until the finish line was crossed that I knew I had won. I want to get back out on the water, but on the Vendée Globe? I don't know yet, we'll see.
To be informed of the latest articles, subscribe: