This Sunday 8th August was a day of sailing race : Rolex fastnet race started at midday and the Pro sailing race ended by the Victory of Sam Goodchild with Leyton in Brest late in the night. Go back to last moment with Pro sailing race.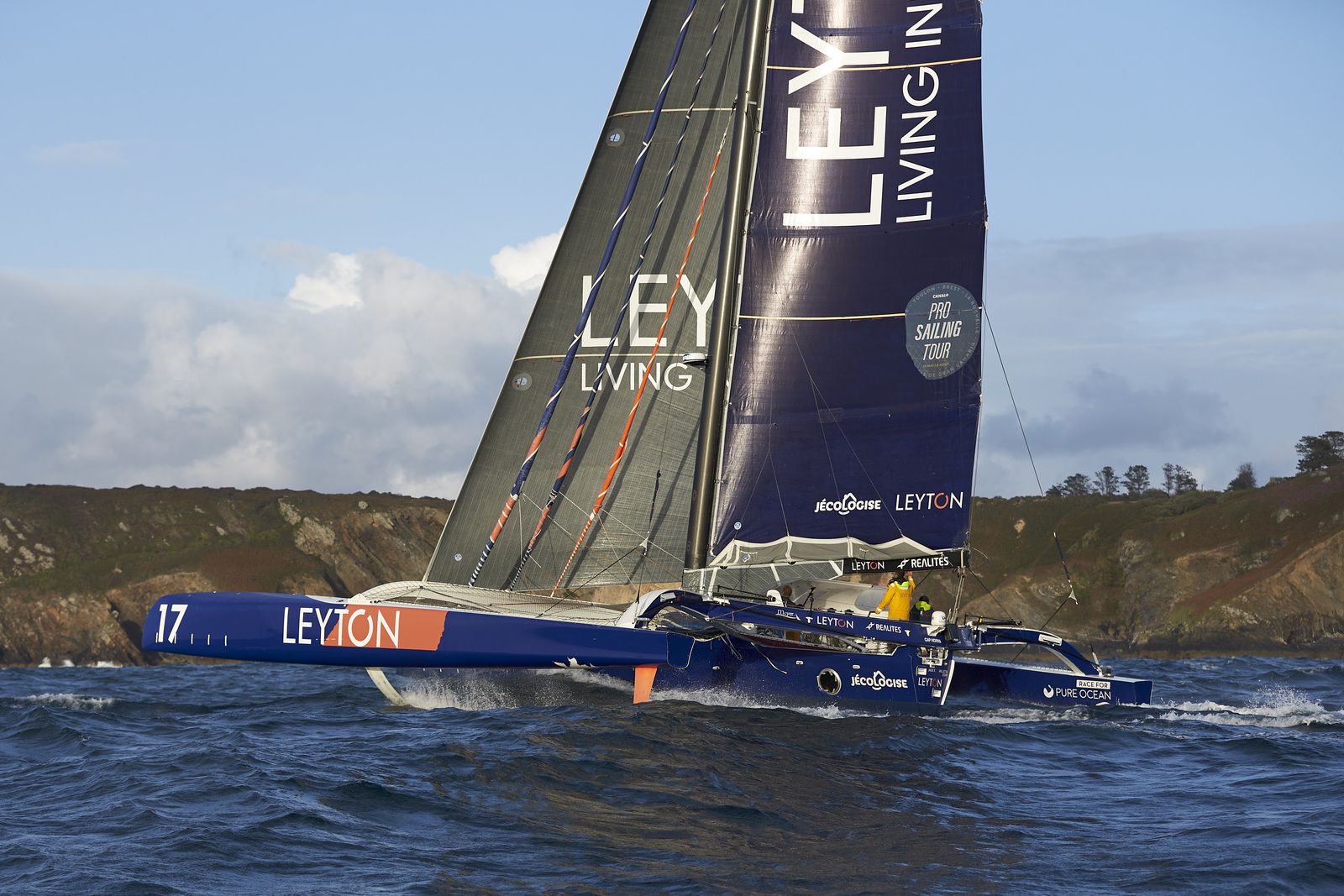 It was tje first season of the Pro Sailing Tour that ended that Sunday 8th August evening. After a tough five-and-a-half day sail in the closing offshore leg of the race, the 'Final Rush'. Having skippered their yacht from Brest to La Rochelle followed by Las Palmas de Grand Canaria, Sam Goodchild and his crew are crowned winners of this series of the Tour, adding yet another accolade to their already impressive tally. They came out on top after finishing the final leg of the race — a 1650-mile-long stretch of water from Toulon to Brest, in which they underwent several re-groupings and a final exhilarating sprint across the Bay of Biscay.
In the end, it was Leyton, skippered by Goodchild, which prevailed over Arkema 4. These two crews, who have been consistent front runners in the offshore racing world, rightfully stand side-by-side on the podium at the end of this first season of the Pro Sailing Tour.
We've been through all sorts of conditions….we've even raced under full sail. Working with the team has been great throughout the race. Aymeric did a brilliant job working on strategy and weather conditions. As for Seb, he knows multihulls very well and is excellent at ocean racing. I enjoyed learning from him. It really was a perfect five days, and the season has panned out a lot better than we could have ever hoped. There are three of us on board, but there are many more people behind the scenes who make the project work. It's great to be able to share this race's finish and this victory."
The hotly fought after third place went to Ciela Village skippered by Erwan le Roux and his crew, who were also raising awareness for multiple sclerosis. Just 57 seconds stood between their arrival and that of Quentin Vlamynck's Arkema 4 in Brest. Thibaut Vauchel-Camus and his crew, who also enjoyed a hugely successful showing great potential taking the early lead on the 'Final Rush', which is reflected in their final results.
Thibaut Vauchel-Camus, who skippered Solidaires en Peloton - ARSEP. "The run we had for the 'Final Rush' was simply brilliant. We all agree that we've had an extraordinary race full of contact, transitions, u-turns, intensity, subtlety, tactics and wild pursuit. We've had an amazing time and we're happy to have been quite successful and finishing with a spot on the podium for this Pro Sailing Tour. We're reaping the rewards of the progress we've made over the season. We had our sights set and we fought for it".Reflecting on the season, we can see that the whole fleet is very level-pegged at such a high level. This Pro Sailing Tour has given us a good focal point in the wonderfully sporting atmosphere of the Ocean Fifty class, with its fair share of fighting as well as fair play. The format of the tour has allowed us to demonstrate what exactly our boats are capable of doing, not only offshore but inshore, too. It's the first time we've raced so much on such varied water. The circuit has its own format, and it works well from a sporting point of view - as well as in the way we interact with our partners, such as the local authorities who have all given us a royal welcome. I can't wait for the next season!"
The others have arrived. Props to them, and congrats to Leyton! Well done Sam and all the team, you've been amazing. Well done to Arkema 4 for second place and a special mention to Solidaires en Peloton - ARSEP for an excellent Final Rush. Your third place on the podium is well deserved and I hope that this great circuit will help you find more supporters for your cause. Well done to Primonial - and to everybody for that matter! As for us, we're still becalmed at Cape Finisterre. It's tough, but that's how it goes. In any case, we're doing all that we can to get to Brest - before the weather deteriorates, I hope!"
This year, the Pro sailing tour organized in France and Spain. It is a regatta circuit visiting for each tourist our European ports in 2021:
Brest (France), 19 to 23 May.

La Rochelle (France), 26th to 30th May

Las Palmas de Gran Canaria (Spain), 30 June to 4 July

Toulon - Brest (France), 1 to 7 August
The Ocean Fifty is formerly known as the Multi 50 class and capable of

sailing

at speeds of over 40 knots, is a 50ft x 50m beam (15m x 15m) ocean trimaran.
The fleet consists of six teams led by highly experience skippers with great track records: Sam Goodchild, Giles Lamiré, Sébastien Rogues, Thibaut Vauchel-Camus, Erwan Le Roux and Quentin Vlamynck.
- The competition format was in Las Palmas de Gran Canaria consisted of
a 24-hour, 400-mile race around Gran Canaria and Fuerteventura on 1 July, and up to eight short races on the 3rd and 4th off Las Canteras beach, which the public can follow from shore.
Image captured -Pro sailing Tour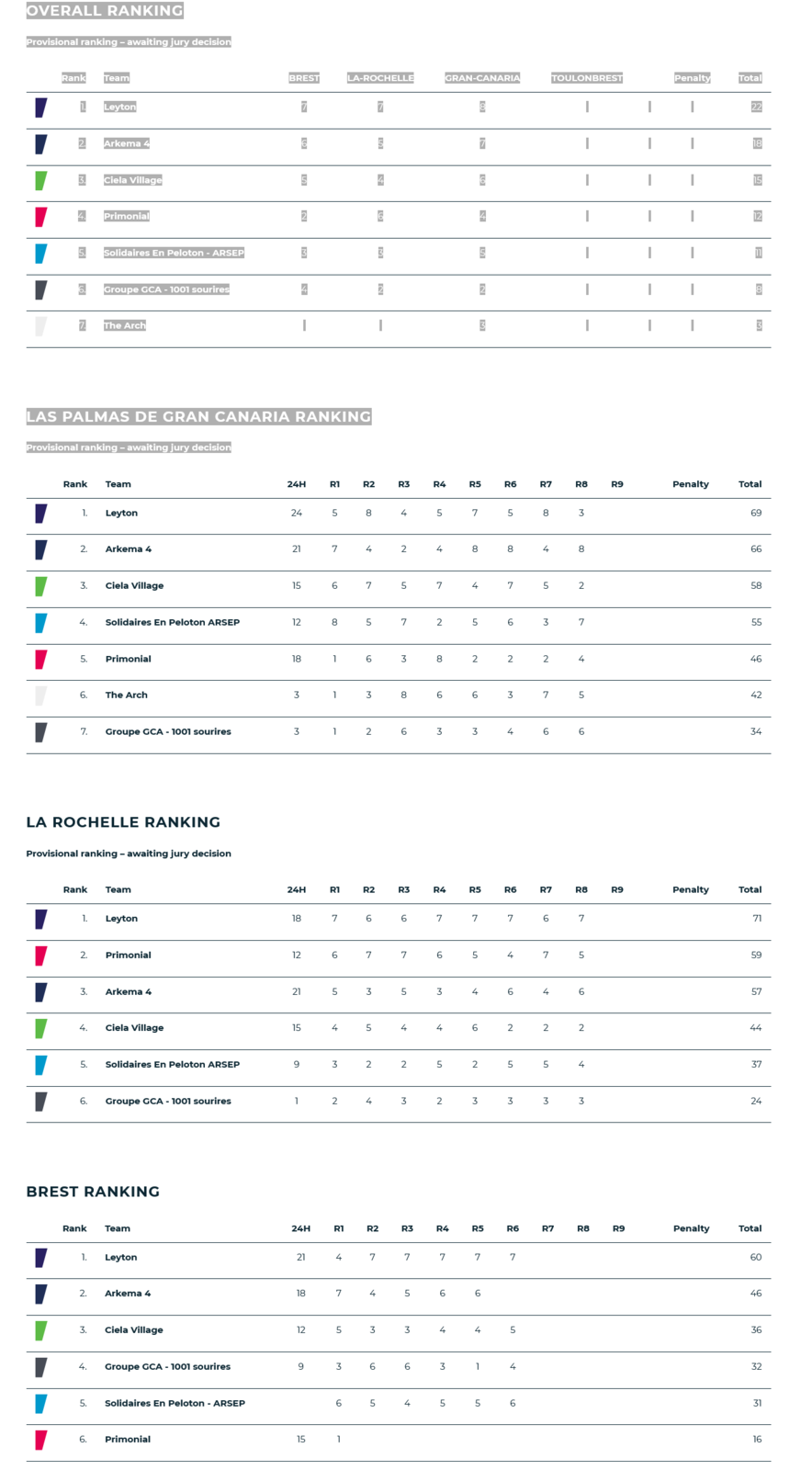 To be informed of the latest articles, subscribe: