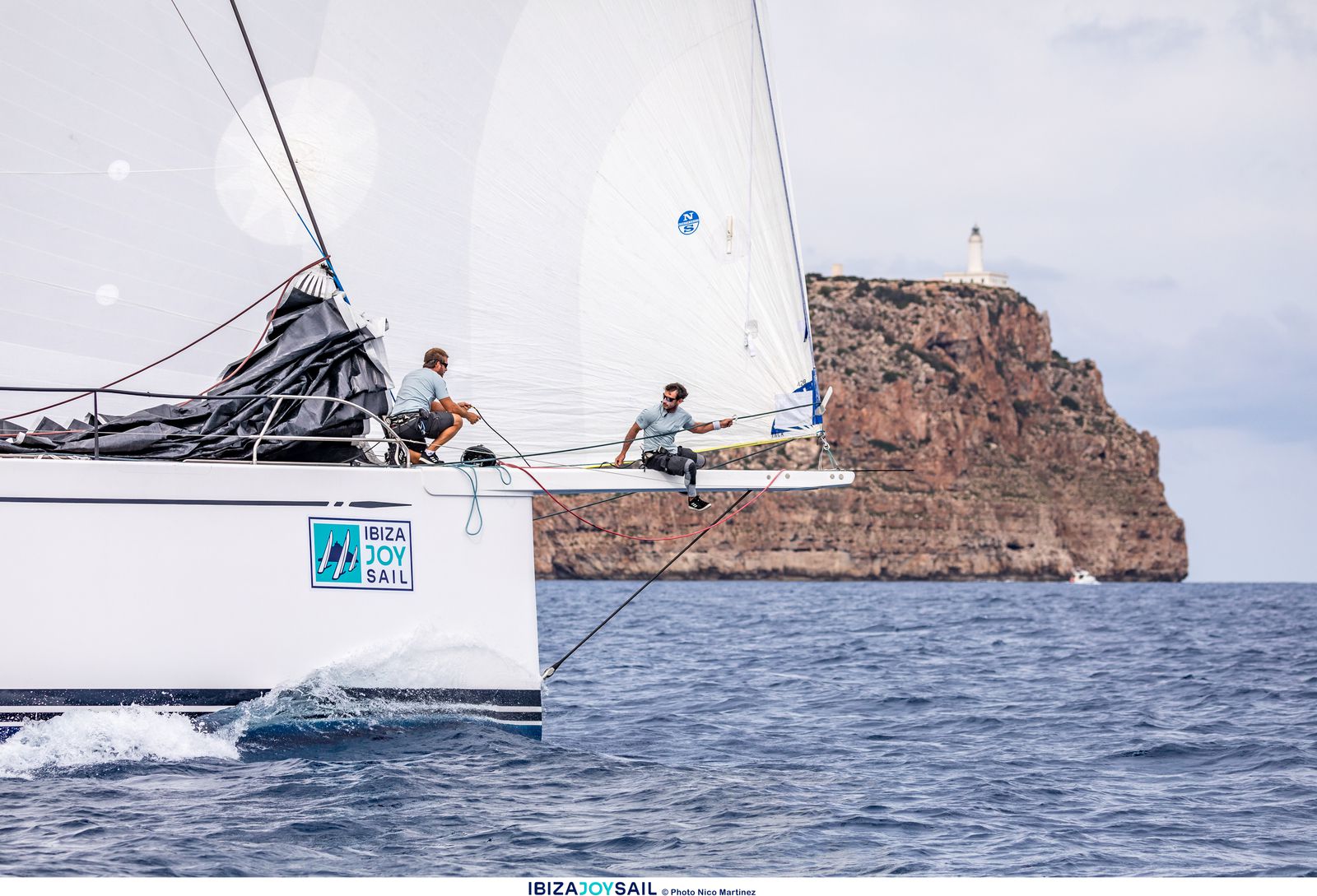 Ibiza JoySail will be back for a sailing race in 2022 between 22 to 25 September. A ceremony prize will be given at Marina Ibiza, "the home port of this maxi and superyacht race. "
It has also become a part of SYRA : Superyacht Racing with ORC, the regulatory body for issuing certificates and official results.
The organizers are so proud of their competitors sailors and they said:
The maiden edition of the Ibiza JoySail regatta 2021 has been a roaring success. The spectacular Swan 115 Moat was crowned winner of this competition for maxis and superyachts, held in the waters of Mallorca, Ibiza and Formentera. What's more, this edition's competitors have already shown their intention to return next year.
Moat was the first ever overall champion, but it was no mean feat, as she started the thrilling final day in a tie with the huge Dubois 120 Bliss. With courses of around forty miles each, the Swan snatched the nearshore race around the Bay of Ibiza, after the Dubois had won the return leg from Formentera. And taking third place on the podium was the other Swan 115 Shamanna. Meanwhile, the Corinthian prize for non-professional skippers went to the Swan 80 Dark Horse and her owner Morgan Jones.
This year's inaugural Ibiza JoySail was sponsored by the Island Council of Ibiza, while its official providers were Seguros Bilbao : event insurance, Code Cero (official equipment), Roto (welcome reception and end-of-race dinner), Exclusivas Miró (drinks supplier in Ibiza and Formentera), Heineken, Pernod Ricard (winner's champagne) and Yacht Moving (transport of boats and racing equipment to Palma and Ibiza).
From STP Shipyard Palma to Marina Ibiza
Ibiza JoySail is a regatta that sets off from STP in Palma towards Marina Ibiza, covering a route of about sixty nautical miles between the Cape of Punta Figuera and the island of Tagomago. Setting a record time between the two islands is one of the huge draws of this crossing, but unfortunately the wind wasn't on the fleet's side this year and the race didn't take place. However, the next two days, in Ibiza and Formentera, were full of thrills and spills, with Moat and her 37-strong crew dominating in real time, although the majestic Bliss was their main rival in corrected time. Shamanna ended up in third place and Dark Horse, the smallest entrant, came in fourth. It was so fantastic"
The Race Committee, headed by Gaspar Morey and Pablo Ferrer, decided to opt for inverted starts. In other words, the yachts set sail every two minutes according to their time compensation rating in this order: Moat, Bliss, Shamanna and Dark Horse.
This was the first time that a race of these characteristics had been held in Ibiza and Formentera. The contenders soon aired their satisfaction after the race, with Moat's owner Juan Ball instantly saying that he had "already put the dates in the diary for next year's Ibiza JoySail. The idea is to come to Ibiza and stop off in Porto Cervo and Saint-Tropez". The Argentine owner added that "Ibiza is a stunning place and we're really happy to have sailed here. It turned out better than we expected for us because we had a new boat. It was a very pleasant surprise. And the race itself was closely fought and really interesting. I come from a more family style of sailboat, but that's another story". Ball also praised the "amazing organisation of this event", adding that "we loved it all and we hope they can keep up this level". About Ibiza, he said that "the place is fantastic, and the people are wonderful. I'm even thinking of buying a house on the island, so I'm sure we'll be back. I've well and truly fallen in love with Ibiza".
The history of Ibiza JoySail has begun. After just one edition, this regatta has burst onto the international scene as one of the Med's most enticing races and will be back next year with even more thrills and spills.
To be informed of the latest articles, subscribe: