Comanche has set a new race record for the 3,000nm race from Lanzarote to Grenada of 7 days 22 hours 1 minute 4 seconds. Comanche's new Monohull Race Record has beaten the previous race record by over two days. With the double achieved Comanche must wait to see if any of the remaining 21 teams racing under IRC can eclipse their corrected time to win the RORC Transatlantic Race Trophy.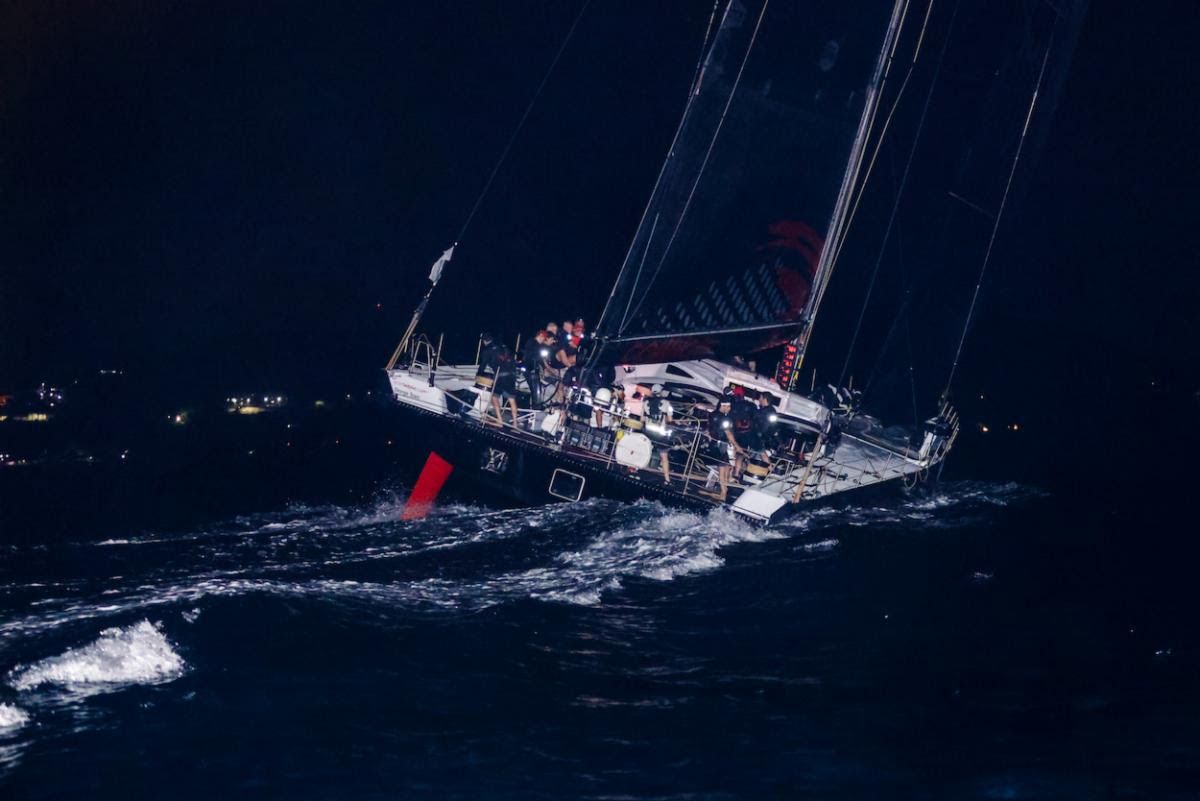 The skipper Mitch Booth with the 30.48m (100ft) VPLP Design/Verdier Maxi Comanche, has taken Monohull Line Honours in the 2022 RORC Transatlantic Race, winning the magnificent IMA Trophy.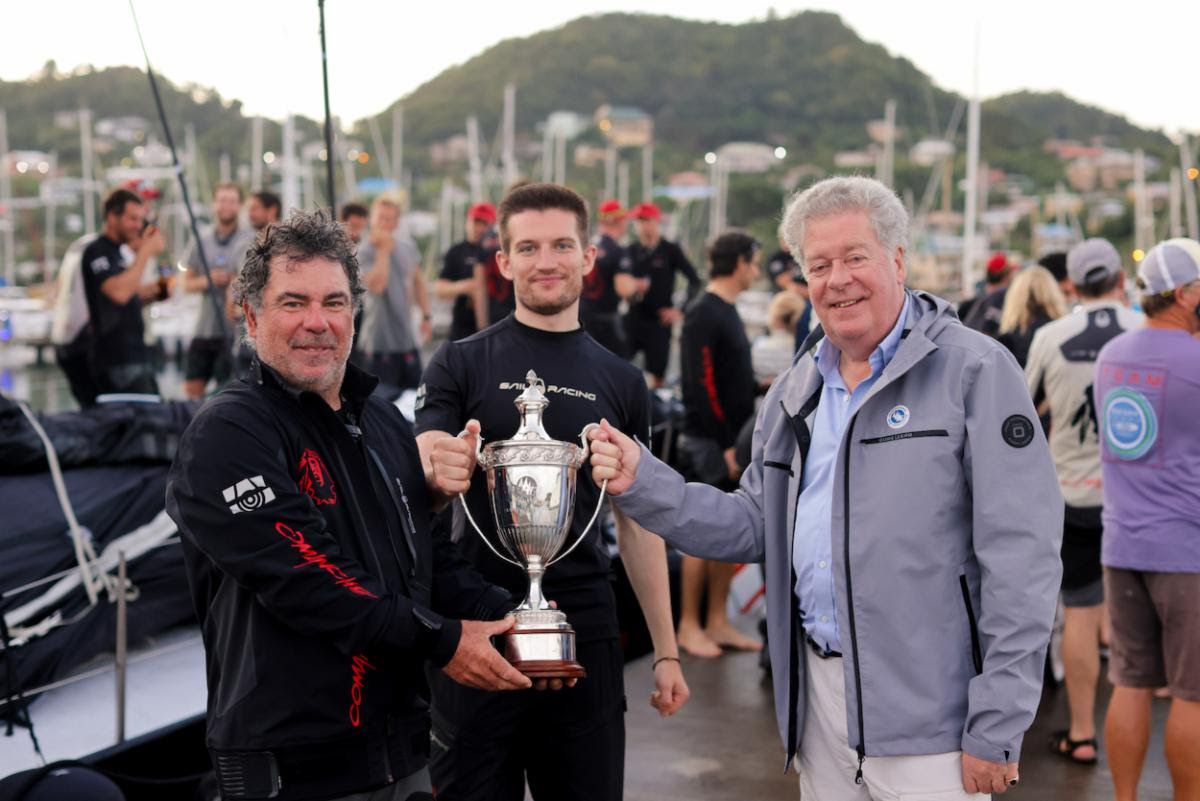 Andrew McIrvine, Secretary General of the International Maxi Association (IMA), witnessed Comanche crossing the line and later presented the IMA Trophy at Camper & Nicholsons Port Louis Marina Grenada. Comanche's record result in the RORC Transatlantic Race is the latest accolade to a phenomenal list of achievements, including the Monohull West-East Transatlantic record, race records and line honours for the Rolex Fastnet Race, the RORC Caribbean 600, the Rolex Sydney Hobart, the Transpac and the Rolex Middle Sea Race.
Mitch Booth is Comanche's skipper. In many ways he is typical of the international crew. Mitch is an Australian and Dutch national who lives in Spain. He has won two Olympic medals in the Tornado Class, world championships in F18s and Extreme 40s, as well as excelling in offshore racing. Comanche's crew comes from 16 different nations and includes winners from the Olympics, round the world races and the America's Cup.
Comanche is an absolute weapon in the open ocean; the benchmark in non-foiling offshore monohulls. The team are just so privileged to have the opportunity to race this boat with the full support and trust from the owners. It's just a real thrill to be on board," commented Mitch Booth. "The Comanche crew is a mix of very experienced offshore sailors, grand prix inshore sailors and a few newcomers. We are not in set roles; everyone is trimming and on the helm. We are mixing it up, having a great time. It's been really fun sailing together. Setting Atlantic records is iconic and very special. Comanche now holds records for both easterly and westerly routes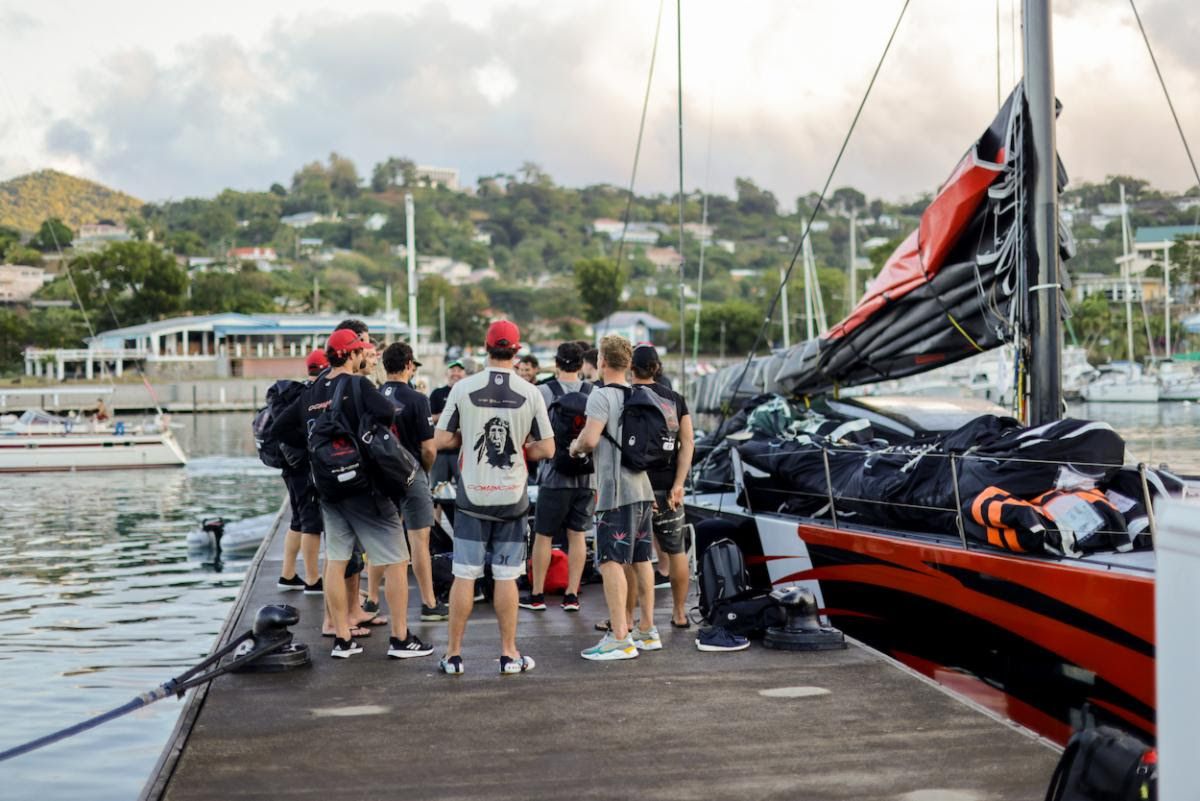 Comanche Team debrief dockside - The winning crew: Guillermo Altadill Fischer, Mitch Booth, Diogo Cayolla, Pete Cumming, Dom Davies, Damien Durchon, Shannon Falcone, Pavlo Kalynchev, Alexei Kapustin, Pavel Karachov, Campbell Knox, Petr Lipa, Lago Lopez Marra, Paul Magee, Will Oxley, Corrado Rossignoli, Louis Sinclair, Justin Slattery, Eduard van Lierde, Rudi van Velzen, Konstantin Vasilev, Daryl Wislang© Arthur Daniel/RORC
This was an atypical transatlantic race, there was some low-pressure systems and instead of the normal south route, where you would gybe west in the sunshine, we had bigger waves, headwinds and really quite difficult conditions. Any team that finishes this race, especially the smaller boats, has done a pretty good job. Our route was governed by an Eastern Wave. It sounds like a complicated term, but they are lines of clouds that develop close to the coast of Africa and move west across the Atlantic. To the north of Comanche was a col, which is two areas of high pressure going in different directions forming a windless area. Our strategy was to wiggle our way between these two weather differences. We always try to point the boat at the mark, sailing the shortest course is probably going to
To be informed of the latest articles, subscribe: