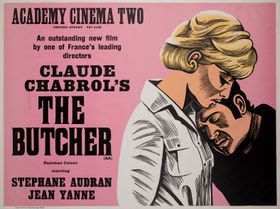 Peter Strausfeld, born in Cologne, came to England in 1938. Whilst interned on the Isle of Man during the Second World War, he developed a close friendship with fellow internee George Hoellering. In 1947 Hoellering became the director of London's pre-eminent art house, The Academy Cinema, on Oxford Street and, disliking the studio-issued film posters, he commissioned Strausfeld to create the posters for the cinema.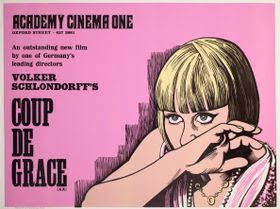 Over a 33 year period, until his death in 1980, the prolific Strausfeld created over 300 designs, each printed by hand using his trademark lino-cut technique. Unflinchingly choosing a striking image from the film set against a bold single colour background and accompanied by strong typography, he built a remarkable body of work. Arresting design by Peter Strausfeld, the best for the title.

In the early years only a maximum of one hundred were printed for each film. In the mid-1970s this run went to three hundred and the majority were pasted up on the London Underground thereby making any surviving copies extremely scarce and collectible.

Orson & Welles only sell original vintage posters and limited edition prints. They predominantly specialise in film posters from the 1940's to the present day having been their passion for over 25 years; but their love has expanded to encompass other vintage posters from around the World. Their hand-picked collections showcase the fantastic array of poster designs from many different countries presenting the best artwork and most sought-after pieces.
To be informed of the latest articles, subscribe: