Radisson RED arrives in Gdańsk
First step in Poland, in the region of lech wałęsa, the Polish politician, activist very popular in 80-90's. He received the Peace Nobel Prize. Back to Gskdansk. The first Radisson RED property in Poland is now welcoming guests. It is part of the redevelopment of Granary Island in the center of the Pomeranian capital on the Baltic Sea.
With this new opening, Radisson Hotel Group's portfolio in Poland has grown to 22 properties in operation and under development.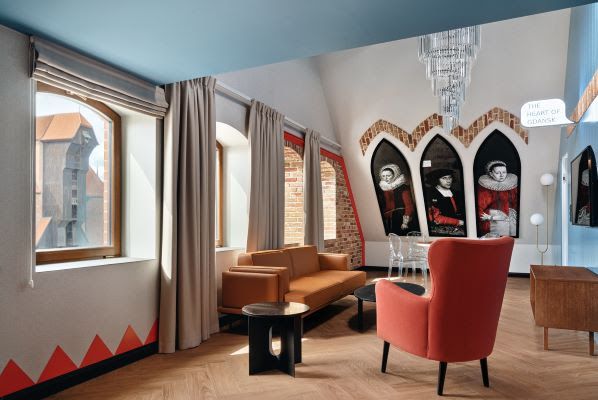 Gdańsk, the capital of Pomerania, has become one of the most popular tourist destinations in Europe, thanks to its strategic location on the Baltic Sea and its rich history as a member of the city of the Hanseatic League. The historic center of Gdańsk, rebuilt after its destruction in 1945, is home to many famous landmarks, including St. Mary's Basilica, the Golden Gate, Artus Court, and the Main City Hall, and can easily be discovered on foot from the hotel. Among the museums of Gdańsk are the European Solidarity Centre, devoted to the Solidarność civil rights movement, and the Museum of the Second World War with its rich collection of military equipment, documents, and memorabilia.
Radisson RED Gdańsk is housed in a reconstructed port warehouse right by the Motława River. During its reconstruction, the original walls were retained, giving the building a truly unique loft-style look. The property enjoys a prime location at the northern end of Granary Island and is connected to the Main City by a newly installed footbridge.
The hotel consists of 30 rooms and suites, some of which have a mezzanine level featuring an extra bed, as well as four one- and two-bedroom suites of up to 50m2. The rooms offer magnificent views of the Motława and the Main City with the famous Gdańsk Crane. The interiors are designed in an eclectic, playful style with surprising decorative elements that play on the building's history and location. The property is home to the Whiskey in the Jar steakhouse as well as a grab-and-go station located in the lobby. Guests of Radisson RED enjoy access to the public areas and amenities of Radisson Hotel & Suites Gdańsk, including its restaurant and bar, as well as its fitness and wellness area, located a mere 200m from Radisson RED Gdańsk.
With the health and safety of guests and team members as its top priority, Radisson RED Gdańsk is implementing the Radisson Hotels Safety Protocol program. The in-depth cleanliness and disinfection protocols were developed in partnership with SGS, the world's leading inspection, verification, testing and certification company, and are designed to ensure guest safety and peace of mind from check-in to check-out. The Safety Protocol is an integral part of Radisson Hotel Group's Safety and Security program ensuring we always care for our guests and team members.
Go to North Africa: Saidia, a city in Marocco
Radisson

Hotel Group expands its Moroccan portfolio with a new resort in the "Blue Pearl" region
Radisson

Hotel Group is proud to announce the opening of its fifth hotel in Morocco, and its second

Radisson

Blu Resort in Saidia.

Radisson

Blu Resort, Saidia Garden is located on one of the longest beaches in Morocco that stretches across 14 km. The resort brings together the tranquility of coastal living with the luxury of a golf getaway. Travelers can enjoy the local natural bird preserve that surrounds the town, private beaches, shopping malls, and a multitude of attractions and sporting activities.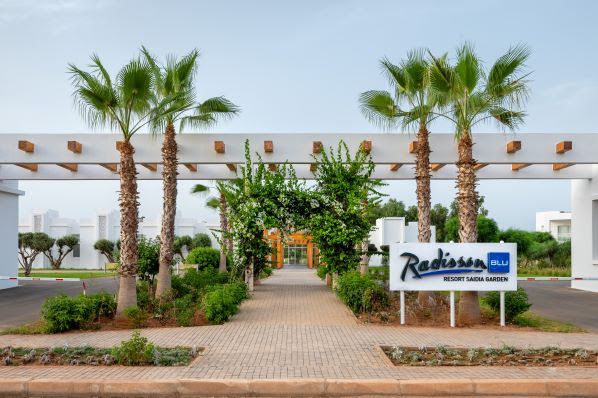 Saidia is a coastal city, located at the Algerian – Moroccan borders, near the city of Oujda in the Oriental "Blue Pearl" region of Morocco, famous for its 14km of fine sand beaches which make up Morocco's longest coastline. First discovered in 1883, the town has become one of northeastern Morocco's most frequented bays, popular with locals and international travelers alike. Saidia is known as the "Blue Pearl" for its beautiful blue waters of the Alboran Sea, filled with a variety of fish species, perfect for divers and water sports enthusiasts or nature-lovers looking to explore the local beaches and hiking trails.
Radisson Blu Resort Saidia Garden features 150 rooms across six different room categories, all with 11sqm private terraces that allow guests to take in the stunning local scenery. The rooms are elegantly decorated in a soft color palette that reflects the local Mediterranean ocean color and glorious sunsets, and feature modern amenities like Nespresso machines, soft bedding, and elegant furniture. The Superior and Family Stay rooms offer interconnectivity for colleagues on a work visit or a family holidaying together.
The hotel includes a specially designed Kids & Co program, which keeps young guests entertained with activities for all ages, including a mini disco, two kids' clubs, and a teenagers' club. A whole-family program is also available, offering exciting itineraries for all families to enjoy together. Other amenities include an outdoor pool, indoor fitness center, bar, dry-cleaning, babysitting, and on-site car rental.
Dining at Radisson Blu Resort, Saidia Garden, is authentically Mediterranean. The family-friendly Atlas Buffet Restaurant & Terrace offers a broad selection of colorful salads, fresh fish catches of the day, pasta dishes, local ingredients such as locally sourced meats, and mouthwatering desserts. For a more relaxed dining experience, guests can head to the Oasis Pool Bar to enjoy a cocktail or a quick snack, surrounded by colorful Moroccan-inspired decor.
Health and safety are a top priority across the Radisson Hotel Group, for both its valued guests and its staff members. Radisson Blu Resort, Saidia Garden, stringently follows the Radisson Hotels Safety Protocol program, implementing in-depth cleanliness and disinfection protocols that were developed in partnership with SGS, the world's leading inspection, verification, testing, and certification company These protocols are designed to ensure guest safety and peace of mind from check-in to check-out.
To be informed of the latest articles, subscribe: