How to turn a worrying trend to solve a kind of problem? Globalisation of maritime fauna
This is a good of fruitful international cooperation: countries with such different policy orientations are working together to solve a problem that comes from what it could call the "Globalisation of maritime fauna", i.e., the invasion of the Mediterranean and Black Seas by hundreds of fish, jellyfish, prawns and other marine species from outside the region.
This invasion, mainly caused by the enlargement of the Suez channel, formally inaugurated on 6th August 2015 by the President Al-Sisi, poses a threat not only to marine ecosystems and local fishing communities, but also to tourism and the health of riverside populations of the seas.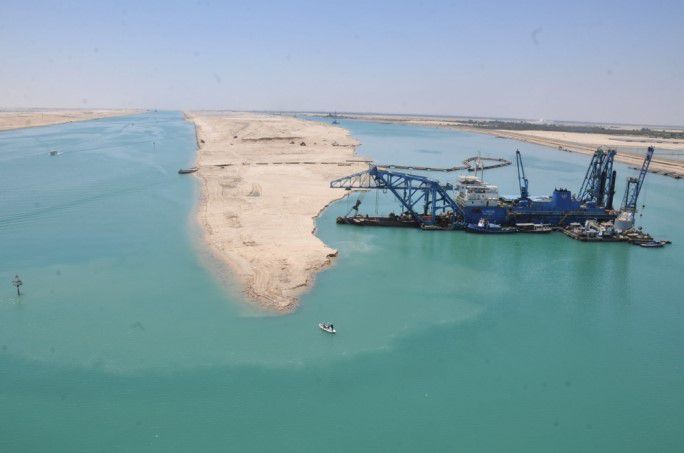 Copyright Officially opened in 6 August 2015, the New Suez Canal adds an additional 35-kilometre-long second shipping lane in the existing 164-kilometre-long historical artificial waterway
For instance, six poisonous and venomous non-indigenous species are currently present in the Eastern Mediterranean, such as pufferfish, lionfish and several jellyfish species, which can be toxic to humans if touched or ingested. Not to mention the appearance of sharks close to the Mediterranean coast, with the security and financial risks (on the tourism industry) that this pose. But fortunately, the UN is not only an organisation designed to secure peace in the world.
It comprises numerous institutions and bodies working to ensure the welfare of the populations of its Member States, such as the General Fisheries Commission for the Mediterranean (GFCM), a regional fisheries management body set up by the FAO, which works with fishermen, conservationists, scientists and government authorities to better understand the increase in non-indigenous species and help the countries affected by this increase to improve mitigation and management measures for these species. And this is not an easy task because, as the fisheries expert for the Eastern Mediterranean Stefano Lelli, working for the Commission referred to above, says, "there has been a rapid and significant change in marine ecosystems, which has had a number of impacts on the livelihoods of local communities", impacts which may only worsen in the coming years because, "the number of non-indigenous species is expected to increase further".
For instance, a kind of plant see below
Copyright Food and Agriculture Organization (FAO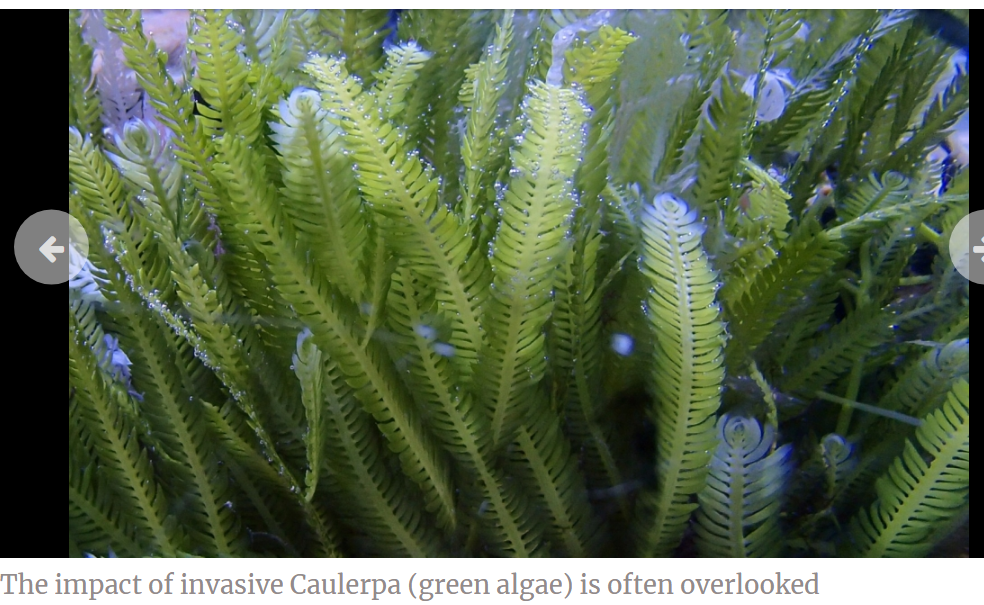 However, with GFCM support, fishermen across the region, who have been affected by this trend, are finding new ways to turn these invasions into opportunities. Thus, in the south-west of Turkey, where invasive species can account for 80 % of catches in some areas, anglers are gradually creating new consumption and export markets for species such as
lionfish, urchins and Randall's seabream.
In Lebanon, anglers are being trained to catch non-indigenous species and consumers are encouraged to taste them. In Tunisia, fishermen were helped by the FAO and the Tunisian Government to transform the unintended fishing of two non-indigenous blue crab species, which threatened traditional fishing, into a profitable activity.
This transformation is also taking place in Spain and other parts of the Mediterranean, which has led the GFCM to develop a dedicated research programme to manage these two species. Commercial fishing of non-indigenous species has thus proven to be the most effective tool to address the problem of costly monitoring and mitigation of the impacts of non-indigenous species on marine ecosystems, where the marketing and use of such species is possible, whether as a source of food, pharmaceutical products or others. Last but not least, the GFCM supports the creation of fisheries restricted areas to safeguard indigenous species, because well-preserved areas have proven to be more resilient to the impact of non-indigenous species.

Contributor: Mário Parrot
Source: Information and pictures from Food and Agriculture Organization (FAO) & https://www.maltatoday.com.mt/
To be informed of the latest articles, subscribe: