ART in Cyprus joins Encephalitis day action
This Monday evening, the Medieval Castles οf Paphos and Larnaka lit in red to fight against Encephalitis disease in the world.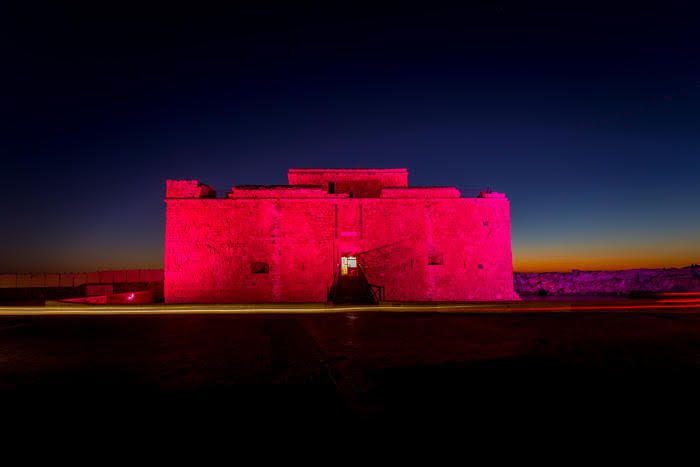 "Encephalitis is an inflammation of the membranes around the brain and the spinal cord, and it every year affects 500.000 people. It is caused by an infection invading the brain or occurring through the immune system. Despite that it lacks of any obvious features, it infects both adults and children, regardless of age, sex and nationality. The consequences of this condition are unfortunately severe, as it damages the brain, which makes everyday life particularly difficult.
The Cypriot Ministry of Transport, Communications and Works said
Due to the severity of the disease, our monuments are lit in red to shed light on the need to protect our less fortunate fellow men and women, who are fighting for their health and life. As we currently experience the new circumstances caused by the pandemic, let us not forget that some people are more anxious concerning their health. It is therefore of immense importance to have our archaeological heritage light up the path that we, as society, should follow, to achieve cohesion, love and effective development. Our great concern should be the safety of those who suffer, as well as of the island as a whole.
The Department of Antiquities, as always, stands together with all citizens, as our cultural heritage comprises an integral part of the society and is the link between the past and the future. Thus, following the call of the honorary ambassador of the Encephalitis Society in Cyprus, soprano Ms Aliki Chrysochou, the Department of Antiquities embraces this campaign as well, so as to contribute to the efforts aiming at raising awareness concerning this disease. "
During the campaign, organised by the Encephalitis Society, monuments and landmarks across the world will be lit in red, such as the Niagara Falls and the Danube Bridges in Vienn, Tower Eiffel was in red light enlighted the "Champs Elysée".
To be informed of the latest articles, subscribe: